SEO Cheatsheet
SEO (or Search Engine Optimisation), is something all digital marketers should be familiar with, but what it means to your digital strategy and what is it's value to digital marketing? As such an ever-evolving component, how can we stay on top of it? With this helpful SEO Cheatsheet, I hope you can find the answer.
You may be asking yourself "how do I get my site to rank on Google?", sadly there is no easy answer to this question. You can have the best product or service in the world but failing to get it noticed will harm your business. Let's first look at some key components of a strong SEO profile, that allows you to rank highly on Google and what are the factors impacting your ranking.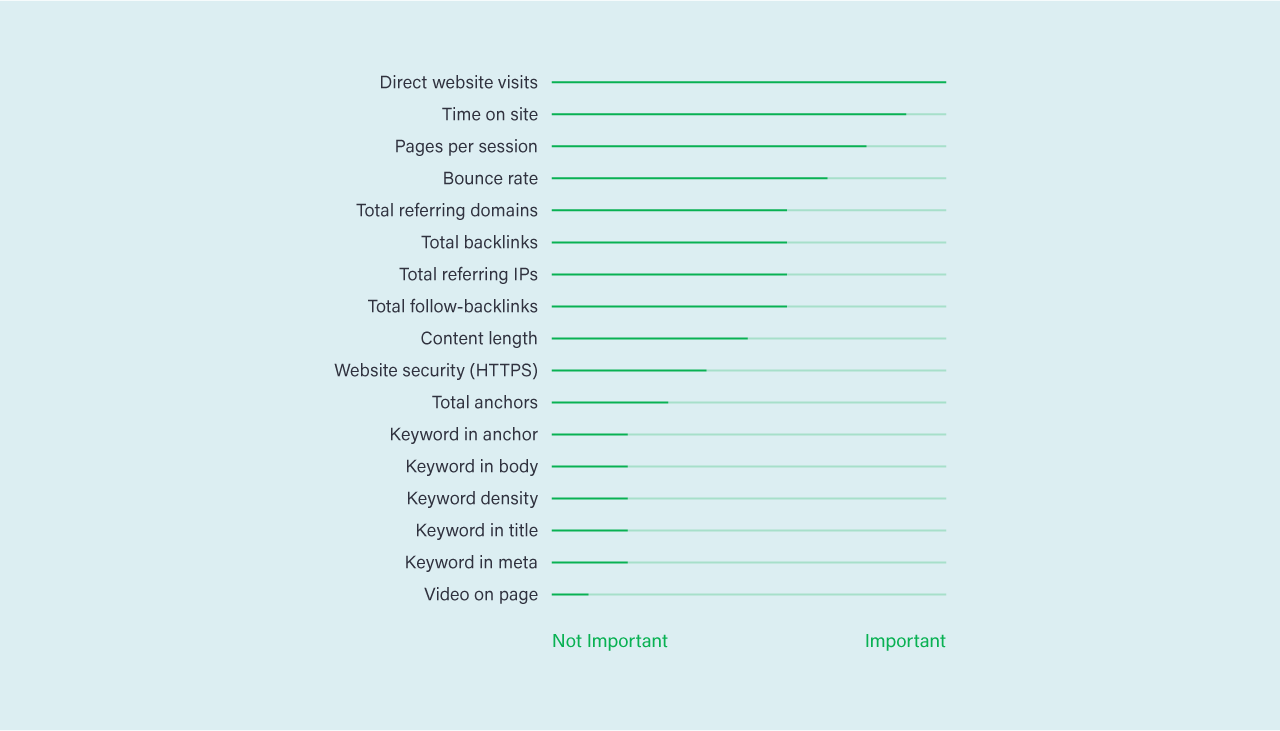 Direct Website Traffic is Key!
The ability to drive traffic towards your site without a prompt may seem like a pipeline dream that your brand hasn't quite reached just yet – but through targeted investments in improving brand awareness, you can ensure your brand is the go-to brand for your product or service, even if you are targeting a niche segment.
Build It Well & they'll return!
We can see a trend towards Google factoring in more behavioral insights into the makeup of how you rank, this means that controlling factors such as your bounce rate, and the time and number of pages a user visits impact whether you will rank higher or lower. It's important to have the fundamentals of website design in place.
Backlinks, Backlinks, Backlinks!
In every SEO post you've likely read, you've seen mention to backlinks and how important they are, well this is no different, for Google to take you seriously, others must do the same, there are many schools of thought on how you can get backlinks, but we think, create content that's usable for others, that matters to users and that adds value to your market segment.
Keep It Secure!
We've noticed an ever increasing importance ascribed to HTTPS – this is what used to only be needed for purchasing & transaction based pages, it is now and increasingly so, is becoming highly relevant in your SEO efforts. Especially within niche segments, we can see that sites that utilize HTTPS tend to have a competitive advantage over their competitors.
Don't forget your keywords
Whilst keywords scattered throughout content is becoming less of a factor, it still remains a factor that cannot be overlooked in your SEO efforts. This involves creating content that contains the keywords you are aiming to rank for. Don't, however, assume that by simply creating generic content that is keyword heavy you will simply rank for those keywords, this is one of the reasons it's less of a factor in how your site performs.
What Can You Do – Backlinks
Firstly, to understand backlinks, we can define them as "a backlink is a hyperlink that links from a Web page, back to your own Web page or Web site." – Webopedia (this is an example of a backlink). What you need to understand is that the more important or more popular a keyword is, the more backlinks that are required to rank on page 1 of Google. In the graph below we can see that the number of referring domains (those sites that are referring to you for example) to reach top positions ranges from just under 25,000 down to just under 15,000 domains. This may sound like an incredible amount, but this is why it's important to create content that matters and adds value your market segment.
On the reverse, we can see that the lower the keyword volume the less impact referring domains have on your position.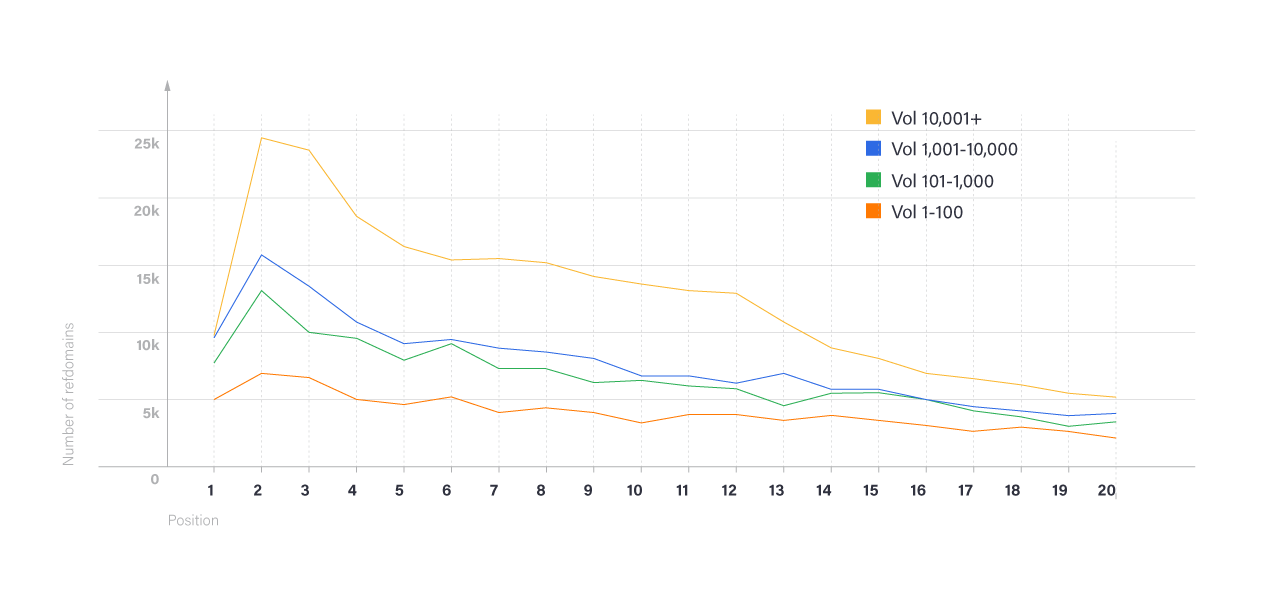 What does this mean? Well, it means that you need a broad backlink strategy, it's not enough to simply cast your content out to the internet and hope for backlinks, but instead to build a strategy around your backlink structure. As outlined in the study by SEMRush – you can't simply manipulate individual components and hope that it will impact your SEO performance, you need to do the groundwork.
What Can You Do – Security
Google has long been committed to the idea of a more secure web, one where users don't have to worry about the security of their browsing. We're beginning to see this impact on SEO performance and the ability of a site to rank. As of 17th of October this year, Google's Chrome browser will explicitly warn users on pages that aren't encrypted with an SSL certificate. According to a recent HubSpot Research survey, 82% of respondents would leave a site if they saw this "Not Secure" warning. We can see this factoring in the performance of websites in SEMrush's study – with the graph below highlighting the % of HTTPS websites frequently occupying the top positions. This indicates that HTTPS sites are important to ensure your SEO efforts are in check.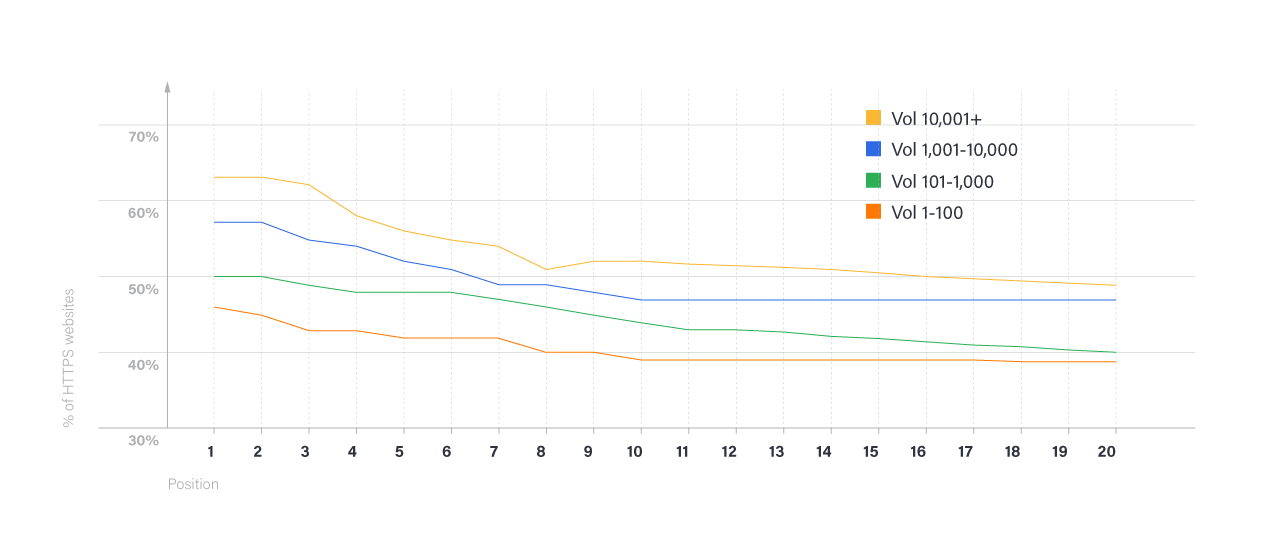 What Can You Do – Content
In 1996 (long before we worried about SEO rankings) Bill Gates penned an article which was published on the Microsoft website with the title "Content Is King". Bill was as right then as he is now, SEO is nothing if not all about content. Within the study we identify some interesting trends, for example, when you're writing a piece you may be aware that word count is an important consideration, we can't distill complex concepts like our customer value proposition down to such a small number of words. We can see for example that to rank at the top, in any segment of keyword volume your content must be more than 500 words. This is a baseline that you should be aiming to meet with your content.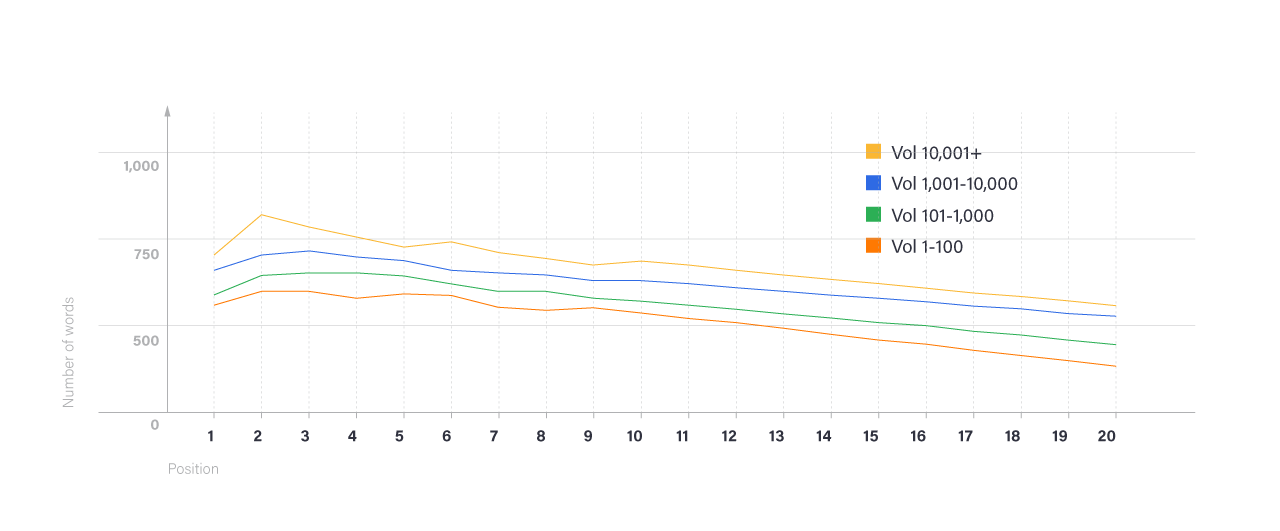 We can also see that the pages that rank for highly popular keywords have on average 1.5 times more content than the pages in the low-volume segment.
We can also that 'keyword stuffing' that is filling your title, meta and essentially everywhere in your article has little effect, while it is true that you will be found for relevant keywords to what your content is about, it's not magically going to drive traffic to your site as there are many, many, many others seeking to be ranked for similar content. So while not completely redundant and still worth ensuring your keywords are in your title and throughout your content, consider this more as a best practice that any sort of effective SEO 'strategy'.
What Can You Do – Popularity.
An interesting takeaway from the study and one that has been suspected by many digital marketers is the importance of driving traffic to rank highly, an effective way to know whether the content is useful is whether it's popular. So what can you do, well that depends! Do you operate in a very high volume segment? Well, a budget will be important, the value of the keywords and the traffic is quite high and will require running effective digital marketing campaigns for example through the likes of Google Adwords.
But if you operate in other segments, it's important you take account of the importance of direct visits, there's one way you can improve your direct traffic – focus on brand awareness, while not a panacea it certainly matters. Let's look at an example, If you are a plumber and a user needs a plumber but remembers your brand from previous engagements (with say, for example, a display network campaign) and comes directly to your site, Google can assume (with some certainty) that you are an authority on plumbing and are relevant to future users searching for information about plumbers within a particular area for example.
Above we can see the importance of this example, The steep trend lines show that there is a strong connection between the number of visits and the page rankings.
What Can You Do – User Behaviour.
There are a number of tools we use to track user behavior and ensure we are making optimisations where necessary, and it's very interesting to see aside from the obvious design benefits of making such adjustments that having a site that works for users supports your SEO objectives. Let's look at a couple of stats that support this, firstly we can see that the higher your bounce rate ( the percentage of visitors to a particular website who navigate away from the site after viewing only one page.) the more problems you'll encounter: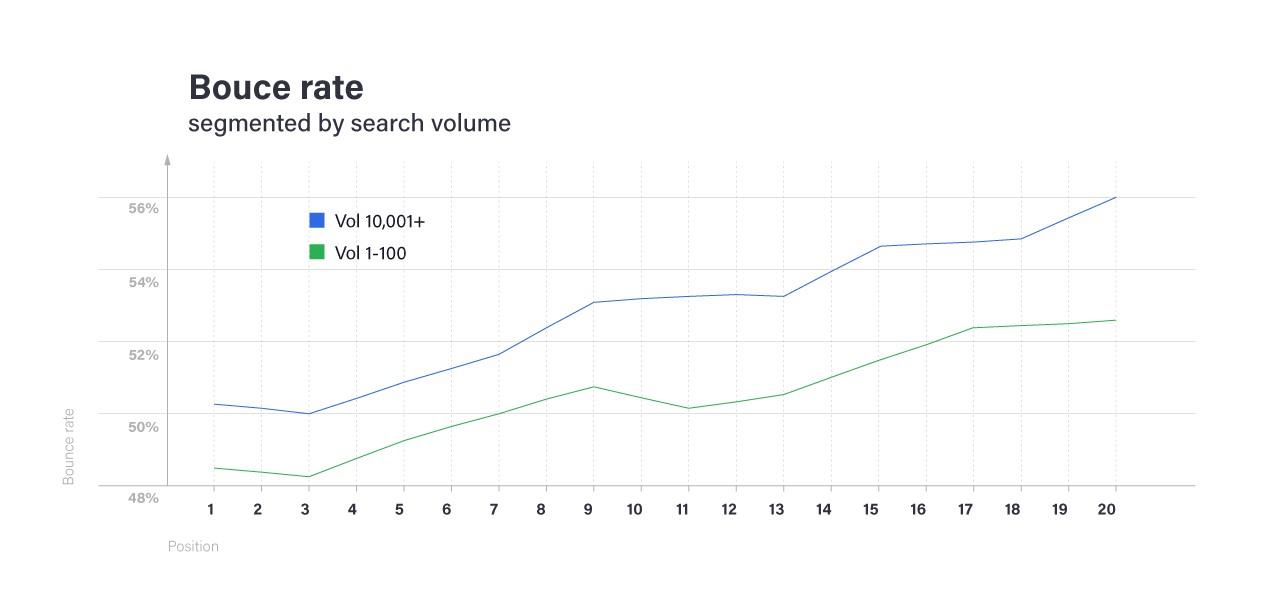 You should be aiming for a bounce rate below 50% ideally, this means focusing on creating landing pages and content that is relevant to users, not all clicks are valuable, those that are valuable are the ones where the user engages with your site.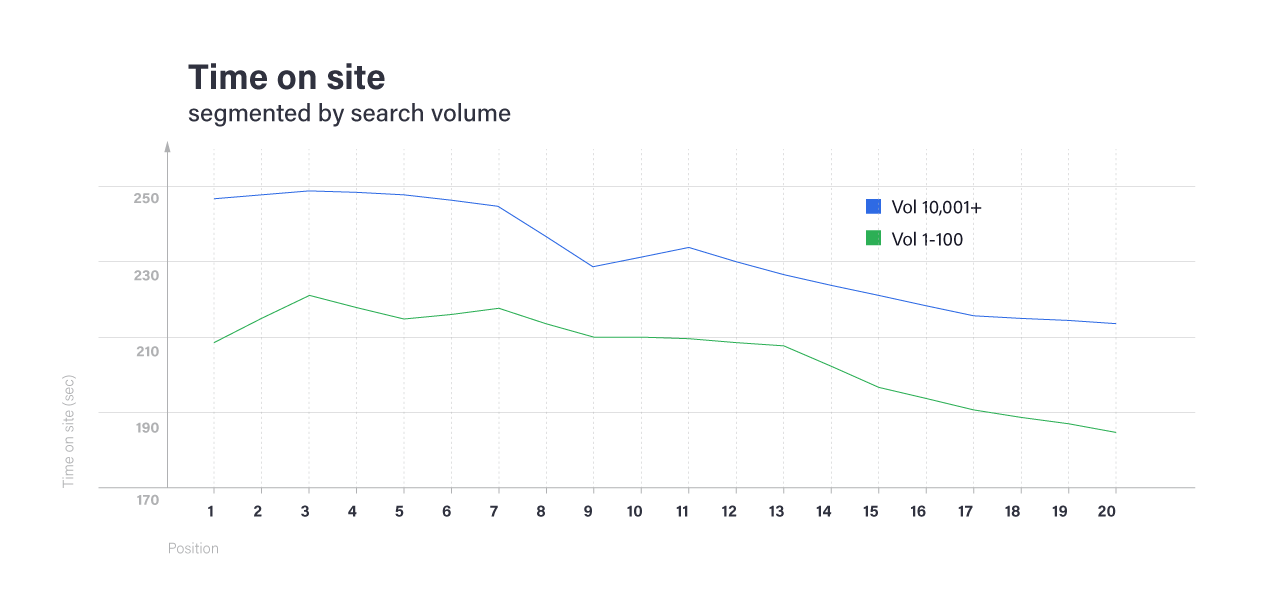 We know users found interesting & relevant content by the time they spend on a site. This metric is linked to your bounce rate, if users click away quickly you need to identify why, and make the adjustments to ensure that you are maximising the time a user spends on your site by ensuring your content is relevant – this is the key!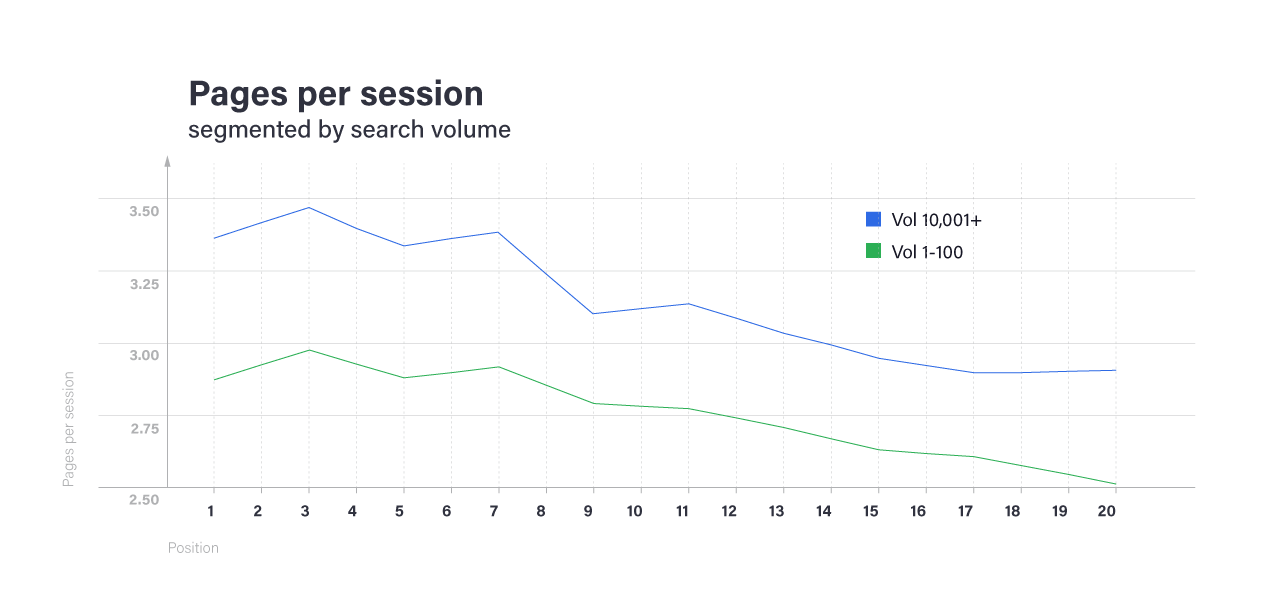 Finally on your behavior insights to watch for is the pages per session, essentially what search engines are looking at here is whether users are navigating throughout your site, this would indicate a site that is relevant and useful to a user.
The Breakdown!
SEO is important, but it's not simply a switch you can turn on any more than you can make your social media posts go 'viral' it requires a lot of groundwork, it requires a strategy, it must be part of the bigger picture of your digital marketing strategy. What we have provided above is exactly that outline, we are seeking to explain the trends that are taking place in SEO, what's moving & what's shaking and most importantly what you can do about it.